SONOMATIC RAIS are changing how we as an industry, perform the costly, harmful, dirty process of surface preparation.
Next Generation Surface Preparation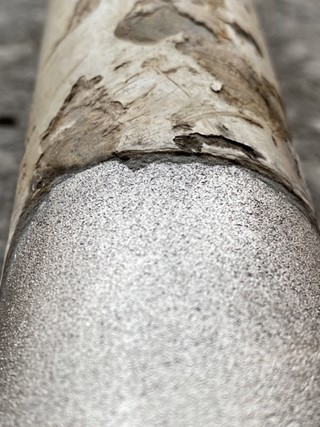 Surface preparation is as important to a successful Inspection, as a competent Technician and calibrated equipment. This process is traditionally carried out by grinding, wire brushing or blasting with grit. However, these methods can actually cause harm to the metal. Brushing or blasting can cause idents, both of which can weaken the metal. These methods are also harmful to our environment and to the user, as they are both exposed to grit, blast and by constantly using a vibrating, rotating tool, the Technician runs a high risk of suffering Hand-Arm Vibration Syndrome (HAVS), from constant use.
Over the years surface preparation has become an overly complicated and costly process. The process more often than not, usually involves four different companies, each with its own set of management, their own teams, submitting four different plans, requiring four different permits. Once that is all in place, the client then has the burden of managing all of this administration and managing/controlling the increased risk using four different companies brings. Within these companies, the equipment they use can be extremely harmful to the equipment and personnel working close by and devastating to the environment.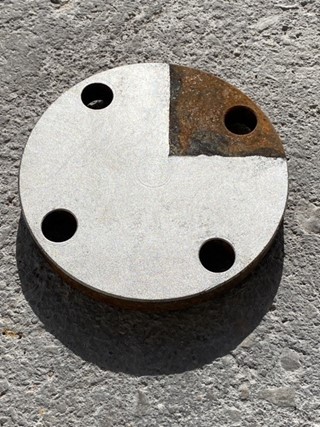 SONOMATIC have found a way to make all of this a thing of the past – Introducing our new patented laser cleaning system. Our Laser Cleaning process clears away undesired material from a solid surface by irradiating it with a laser beam. By absorbing the energy of the laser beam, the molecules of the targeted material are excited very quickly, making it break apart and ablate or vaporise off the surface. As the surface below does not absorb any energy, it remains unaltered.
Our challenge to our potential clients is to challenge the "norm" with us. When we turned our attention to the significant problem of surface preparation, we found not only a laser like no other, but we also found it was time for our NDT company to take on the responsibility for our own surface preparation. From then, we developed the idea of creating a small maintenance team who would work alongside the NDT Team. The Maintenance Team completes the surface prep using the laser or laser from ropes, removes and resinstall insulations, performs the NDT Inspection, returns the area to its original operating state and issue the report.
One Team. One point of contact. Destroy delays. Increase production. Multiple results.
Reducing cost, reducing risk, reducing headcount, reducing damage to the environment.
Delivering a safer, more cost-efficient service that will only improve as we get to know our clients and the assets they are responsible for.
Get in touch with us today