In many modern industries, rope access stands as a pivotal thread, being used in various sectors to uphold safety, efficiency, and reliability. This specialised technique is central to the operations of diverse fields, ensuring that even the most challenging and inaccessible areas are within reach.
At the forefront of providing exceptional rope access services is Sonomatic RAIS, a company synonymous with expertise and proficiency in this domain.
What is Rope Access?
So, what exactly is rope access? It is a specialised technique used to reach and perform work in challenging and high locations, minimising the risks associated with heights and confined spaces.
Originating from climbing practices, rope access has evolved into a comprehensive system that combines fall protection, work positioning, and rescue procedures. This is why rope access generally reduces the risk of incidents.
Rope access is integral in ensuring that projects are completed safely, efficiently, and with the least disruption to operations and the surrounding environment. Its applications are vast and varied, demonstrating its indispensable role across different industries.
The Importance of Rope Access
Rope access is about contributing significantly to the safety and efficiency of industrial operations. From inspection and maintenance to installation and emergency response, rope access technicians ensure the efficiency of various industrial processes.
The versatility of rope access makes it beneficial across a multitude of industries, including energy, construction, entertainment, and emergency services, to name a few. It is a solution to the complex challenges these industries face, enabling tasks to be completed in a manner that prioritises safety and efficiency.
What is a Rope Access Technician?
A Rope Access Technician is a professional specially trained to perform tasks in high or difficult-to-reach locations using advanced rope access techniques. These professionals are integral to a myriad of industries, executing rope access work with precision, efficiency, and strict adherence to safety protocols.
Rope access technicians work in diverse environments, ranging from towering skyscrapers to cliff faces, fulfilling a variety of tasks such as inspections, maintenance, and repairs. Their responsibilities are extensive, requiring a multifaceted skill set, including problem-solving, physical agility, and a thorough knowledge of safety practices.
To become proficient in their role, rope access technicians undergo rigorous rope access training. This training is designed to equip them with the essential skills and knowledge required to navigate and work safely in challenging environments. It encompasses both theoretical knowledge and practical skills, ensuring that the technicians are well-rounded and adept in handling various situations.
Safety is paramount in rope access work. Professional rope access technicians are trained to adhere to stringent rope access safety requirements. These requirements are in place to safeguard both the technicians and the people around them, minimising risks and ensuring that every project is completed without incident. The technicians regularly engage in safety drills and are knowledgeable about the latest safety standards and equipment.
In essence, a Rope Access Technician is a skilled professional, armed with extensive training and a steadfast commitment to safety. They navigate challenging environments to perform essential tasks, making them invaluable assets in industries where accessibility is a challenge. By understanding the depth of their training and their unwavering adherence to safety protocols, companies can better appreciate the value and reliability that professional rope access technicians bring to the table.
Jobs Performed by Rope Access Technicians
Rope access technicians are the backbone of any rope access operation. Their expertise is sought after for inspection and maintenance tasks in industrial settings, ensuring the integrity and functionality of structures and equipment.
In the construction and installation sector, they are indispensable, providing crucial support in building infrastructural developments. Moreover, their skills are vital in emergency and rescue operations, where they play a critical role in saving lives and mitigating risks.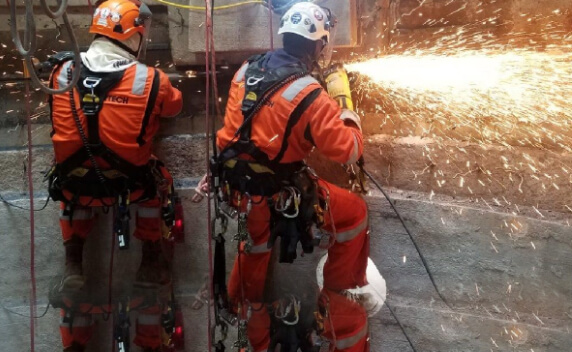 Rope Access Techniques Explained
Understanding the assortment of rope access techniques is pivotal for companies seeking an efficient and safe approach to inaccessible or high-altitude tasks. These techniques are diligently designed, incorporating quality assurance procedures to mitigate risks and ensure the safety of the rope access technicians.
Utilising Rope Access Equipment
Rope access equipment is fundamental to the execution of tasks. This specialised gear is meticulously designed to uphold safety standards and facilitate the manoeuvring of technicians in challenging environments. The equipment includes descenders, ascenders, anchors, harnesses, and ropes, each playing a crucial role in the successful implementation of a rope access system.
A well-orchestrated rope access system is central to the success of any project. This system integrates various techniques and equipment to formulate a comprehensive solution tailored to the specific needs of the task at hand. The synergy of these elements is vital in ensuring the safety and efficiency of the rope access solution.
Upholding stringent quality assurance procedures is critical in the realm of rope access. These procedures ensure that every aspect of the operation, from equipment to execution, adheres to the highest safety and quality standards. The meticulous attention to detail in these procedures guarantees the reliability and safety of the rope access solution, fostering trust and confidence among clients.
Rope access techniques, coupled with specialised equipment and strict adherence to quality assurance procedures, form the bedrock of a successful rope access system. The amalgamation of these elements results in a rope access solution that not only meets but exceeds the safety and efficiency requirements of various industries.
By comprehending these techniques and systems, companies can better appreciate the depth of expertise and commitment to safety inherent in rope access services.
Factors to Consider
When it comes to selecting a rope access service, several critical factors come into play.
Firstly, the level of expertise and experience of the rope access technicians is paramount. A well-trained and certified technician can ensure the success and safety of the project.
Secondly, the adaptability of the service to different industrial needs and challenges is crucial. The ability to customise solutions based on the specific requirements of a project demonstrates the service's versatility and competency.
Lastly, the emphasis on safety protocols and standards reflects the company's commitment to safeguarding both its technicians and the client's assets.
Why Choose Sonomatic RAIS?
Sonomatic RAIS stands as a beacon of excellence in the rope access industry. With a team of highly skilled and certified technicians, we guarantee service that prioritises safety and efficiency.
Our adaptability to various industrial challenges, coupled with our stringent adherence to safety protocols, sets us apart from the competition. We pride ourselves on providing customised solutions, ensuring that each project's unique needs are met with precision and reliability.
Rope Access and RAIS
Safety rope access is a versatile and indispensable technique integral to the operations of diverse industries. Whether it's performing maintenance at dizzying heights, conducting inspections in confined spaces, or responding to emergencies, rope access technicians are the linchpin ensuring the smooth execution of these tasks.
Understanding what rope access is and the vital role of a rope access technician can provide valuable insights for businesses seeking efficient and effective solutions for working at heights or in challenging environments.
As industries continue to evolve and grow, the demand for proficient rope access services is poised to rise, making it a field of significant importance and relevance.
For businesses and companies in need of unparalleled rope access services, Sonomatic RAIS is ready to meet and exceed your expectations. With our team of skilled technicians and our commitment to safety and excellence, we are poised to tackle the challenges of any project, delivering results that align with the highest industry standards.
Contact us today to experience the Sonomatic RAIS difference and elevate your operations to new heights.